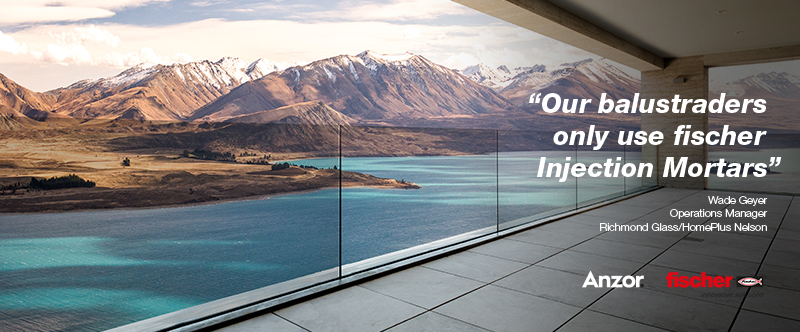 Located in sunny Nelson, Richmond Glass Group is the local trusted specialist for anything glass and have branches on the West Coast and Queenstown. In addition, they're also the Nelson franchisee for HomePlus. This means that not only are they specialists in glass, they also offer customised solutions for an extensive range of products such as security/insect screens, wardrobe organisers, wardrobe doors, awnings, louvre roofs, shower screens, fencing and balustrades.
Working in such a beautiful part of the country, Richmond Glass understands that glass balustrades create the visual illusion of space which doesn't obstruct the majestic South Island scenery, unlike traditional clunky balustrades.
As a result, Richmond Glass needed a simple fixing system for their balustrades that was not only easy to use but strong enough to withstand the elements. This is where the Anzor range of fischer Mortars literally inject themselves.
Fischer Injection Mortars are easy to use - especially handy when you're working at height. "I have used many mortars in the past and the fischer range is the best. All you have to do is drill and clean the hole, squeeze in the mortar and then insert the threaded rod – it's that simple! There's no premixing of mortar and there's no wastage as all the mortar is able to be pumped out" says Operations Manager, Wade Geyer.
"We often work out of town and we're confident that we can turn up on site, install balustrading with fischer Injection Mortars and not have to go back because of mortar failure. We only use fischer Injection Mortars" says Wade.
For most balustrade installers, the ease of use of the fischer Injection Mortars is generally all that is required, but the fischer Injection Mortars are also packed full of features such as:
European Technical Approval (ETA) and seismic rating for C1 and C2 which meet the NZ Building Code (NZS 3101: Part 1 2006) - perfect for earthquake prone regions (see appendix below)
it can be used in cracked concrete and is great for renovations and post-build additions (see appendix below)
certain fischer Injection Mortars can also be used in water filled holes – work continues no matter the weather (see appendix below)
"We also use fischer Injection Mortars because Mike and his team at the Anzor Nelson Branch are easy to deal with. We'll order the product and it'll turn up same day if not the next day and they always have stock".
Mike Firestone, Anzor Nelson's Branch Manager, shares that speed and large stocks are guiding principles to Anzor's business. "At Anzor we've got a saying, "fasteners fast", which means that we get the product to the customer as fast as possible. All orders received are sent out the same day if placed before 4pm".
He also says that "Anzor has always had large stock levels and with a new branch opening in Dunedin in June 2020, we're focused on growth and brimming with stock".
Contact Anzor now for great service and large stocks.

"I would honestly recommend Anzor to anyone needing Injection Mortars or Fasteners"
– Wade Geyer, Operations Manager, Richmond Glass/HomePlus Nelson.

Appendix
FIS V 300 T Chemical Injection Mortar. FIS V 300 T Overview & ETA and C1 & C2
FIS SB 390 S Chemical Injection Mortar. FIS SB 390 S Overview & ETA and C1 & C2
EM Plus 390 S Chemical Injection Mortar. EM Plus 390 S Overview & ETA and C1 & C2