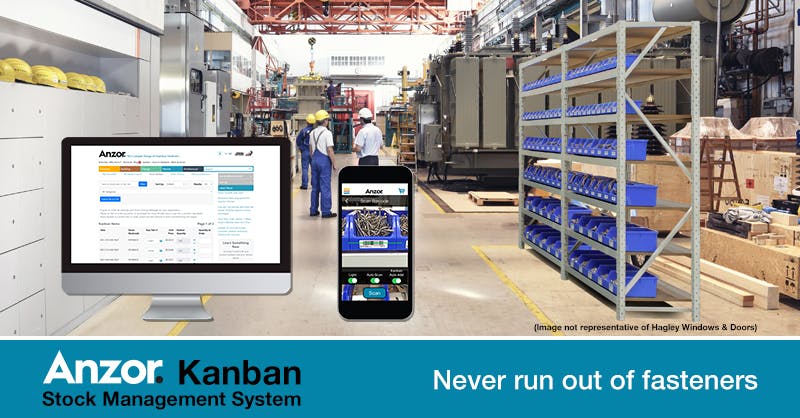 Hagley Windows and Doors is a leading manufacturer of residential and commercial window and door joinery in the South Island. Renowned for producing a range of high-quality Vantage aluminium products, including Architectural aluminium, Smartwood and ThermalHeart joinery, Hagley has been supplying the building industry for over 35 years under the same local ownership.
With their 2017 move to purpose-built premises in Waterloo Park, Hagley is committed to keeping world class manufacturing in Canterbury and has invested in the latest European manufacturing equipment to do so. The future of the company is very much focused on streamlining production and the benefits this brings to both the end user and the company.
A major part of any successful production line is the efficient acquisition/storage of components and fasteners, enter Anzor's Kanban Stock Management system.
Flexible Stock Management System
At its core, Anzor's Kanban system is a web-based reorder template which conveniently locates all of the products that you use in one place. It can then be easily accessed from any location through Anzor's website or phone app. The Anzor labelling, website and packing slips can even include your own parts numbers as well as Anzor's stock codes.
For larger companies, our system helps eliminate costly stock outs and allows for spikes in production. For smaller companies, it can help reduce the labour cost of buying and excessive funds tied up in materials.
Marcel Mulder, Purchasing Officer for Hagley explains: "The biggest difference the Anzor Stock Management system has made to our business is the time saved in reordering. It just makes placing stock orders so easy and manageable."
The system is easy to setup and even easier to use!
1. Anzor prepares a quote made up of your most commonly used items,
2. Once approved by you we then create a reorder template and upload it to your web account,
3. Finally, and depending on the type of system you want to run, we can supply bins, labels and stands. You can use the website to order, or download the free app for iPhone or android phones if you prefer to quickly scan the bins to re-order.
And you're ready to go! Along with Anzor's massive stocks and fast turnaround, Anzor Kanban offers a scalable system perfect for any environment.
Anzor's South Island Regional Manager, Murray Ward, explains that the Anzor's Kanban tool is perfect for individuals and companies alike, 'We have customers who will buy our complete two bin system including, mobile stands or shelving, all the way to customers with smaller workshops who just need a couple of labels for their existing bins.'
Learn more
If you're interested in setting up Kanban for your company or home work shop click here to submit an enquiry, or click here for more information.
Need website access?
Have an account but need a login? click here.
To apply for a cash account, click here.
To apply for a credit account, click here.